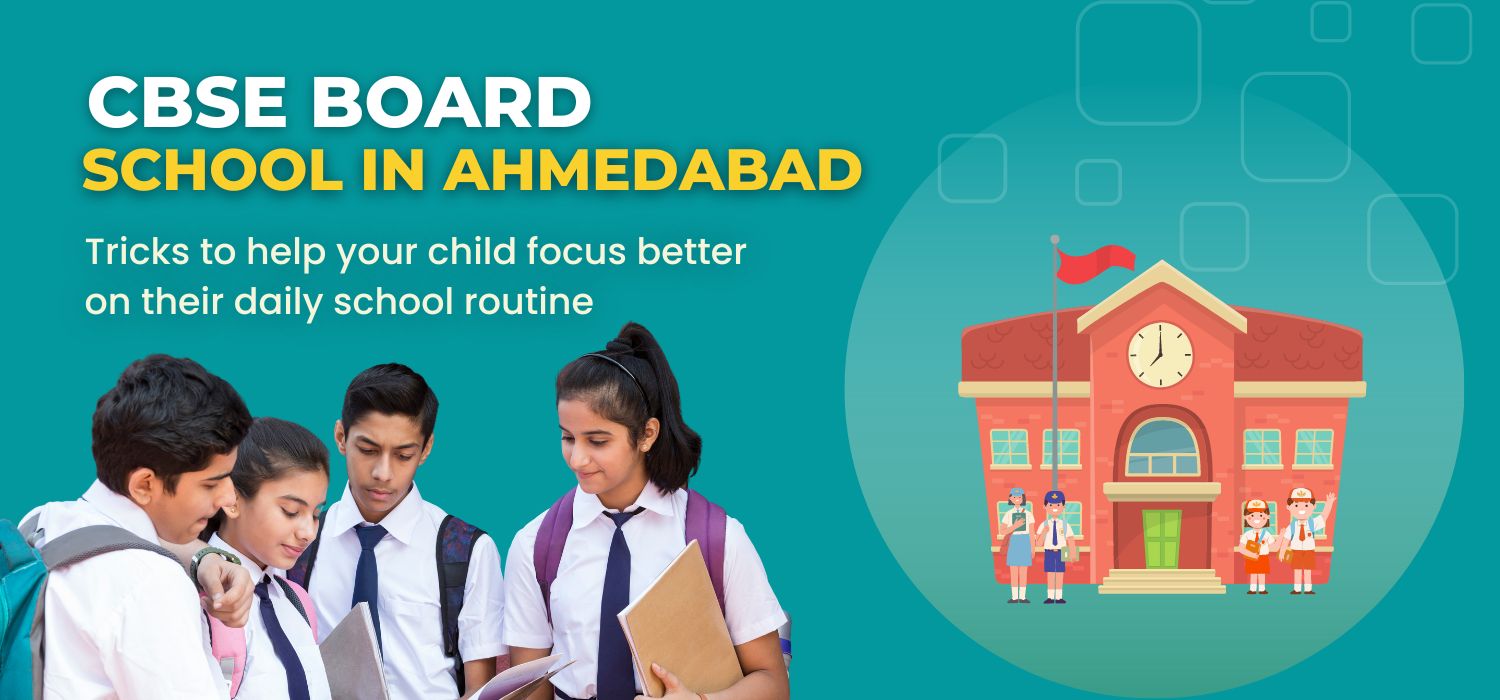 The academic environment has become highly competitive and demanding for children. For that matter, the transition from online to offline mode of study has been equally challenging for most children. One of the first challenges children, parents, and teachers face are getting children to follow a daily school routine.
An ideal leading CBSE board school in Ahmedabad will ensure that the transition for students is smooth and enjoyable. On that note, here we share a few tips and tricks that can help improve children's focus on their daily school routine.
• Work and Play Balance:
Even though the general understanding says that students studying at a CBSE school in Ahmedabad need to focus on Academics, we would like to differ.
No doubt, there is no compromising on a child's academic bent, but what is equally important is to introduce balance. The first step towards improved focus is encouraging children to try multiple activities, multitask, and get their fair share of breaks and playtime.
• Group Activities and Networking:
As a parent or a teacher, if you are witnessing a child getting distracted often, you can try engaging the child with others in their close circle. For instance, you can introduce children to group activities, wherein they do not just enjoy the company of their classmates but also build meaningful learning routines in the process. As a well-known CBSE board school in Ahmedabad, we, at Udgam School ensure this point is ticked on our list.
• Allow them to have their own learning pace
One of the forefront reasons that prevent children from focusing well on their daily school life is the pressure of catching up with others. It is vital to understand that the grasping power and learning capacities differ from child to child. This factor only means your child may be a fast learner, while another child may be learning comparatively slow.
The moment children feel free from the burden of comparisons and the pressure to meet unrealistic expectations, it is not far that they start showing up more attentively in their daily school routine.
• Working around micro-tasks:
It is natural for children to feel overwhelmed, especially when a complex task comes before them. The first thing they wish to do in such situations is to quit. No doubt, abandoning and focusing don't go hand in hand.
If you have observed such behaviour among your children, then a wise way out is to build smaller tasks. Say your child has to achieve Goal A. What you can do here; is provide your child with a breakdown of the step-by-step procedure that needs to be followed to reach the final goal.
This aspect will ease your child to focus on individual tasks and imbibe concentration.
• The act of 'Listening':
Many a time, children may be working on improving their focus levels. However, they may be having trouble, such as an inability to understand a subject or teaching style, or in more severe cases, may be suffering from a lack of self-confidence.
In such a scenario, all you need to do as a parent is hear your child out. Give your child the time and attention they deserve, and together work out a way to tackle these problems and ultimately; improve their focus levels.
Concluding Words:
If you have been living under the impression that focus is a challenging trait to build in children, think again. A little effort from your child is not far before your child learns to focus on their daily school routine.
The CBSE schools in Gujarat, like the Udgam School for Children, encourages children to express and learn to focus, while working out ways to come up with solutions to address such woes.
Ideal schools will help to raise your children into rooted and well-groomed individuals, keeping holistic attention on their emotional, physical, and intellectual well-being.