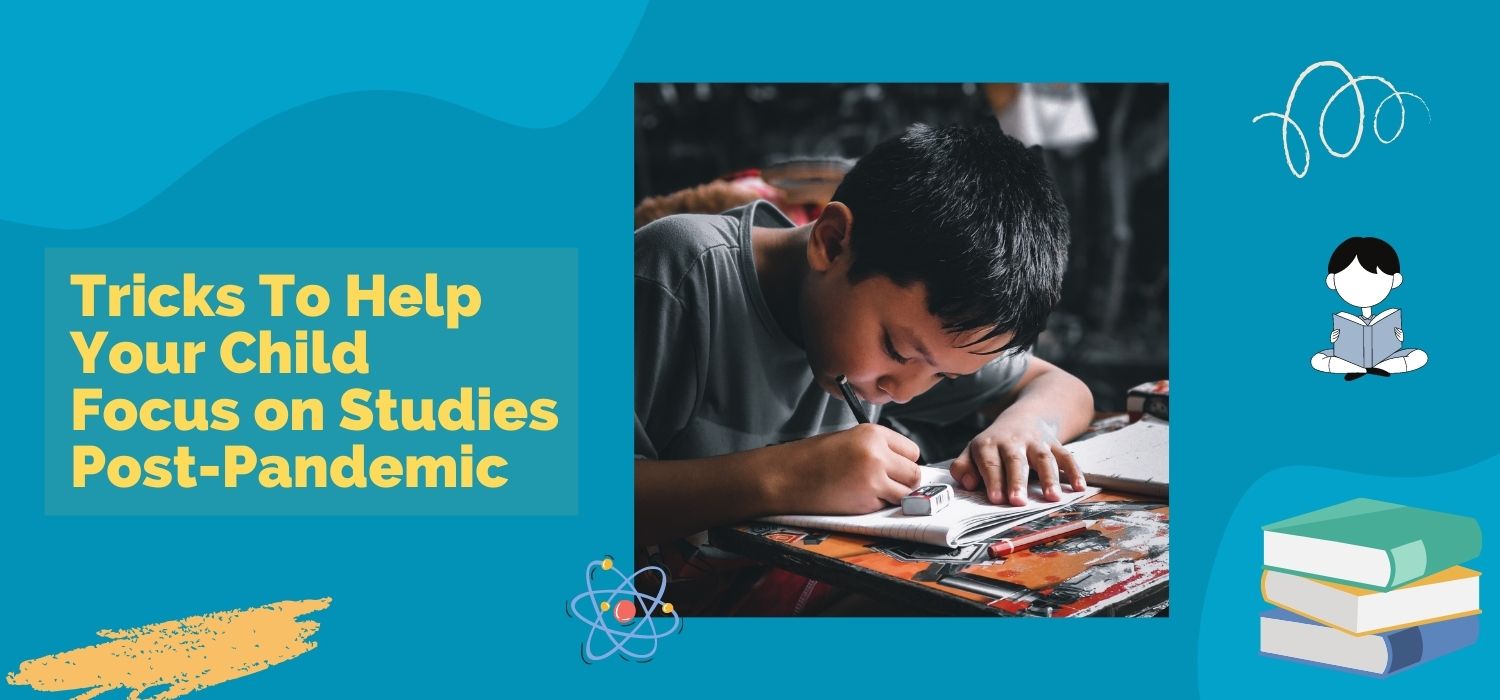 Even a minor life event can disturb and shake the focus of anyone, and the pandemic has affected not just children but also adults to much extent. The long-drawn lockdowns and the fear of the virus have kept us indoors for lengthy periods, with all the work and studies shifting from physical to online. In such a scenario, the impact on the children has been skewered in many ways, one of them being the loss of focus and the will to study.
Blaming the children for this loss of focus would be wrong and bring down their morale further, perhaps resulting in an aversion to studies. We all know that going back to school and studying after vacations seems like a huge task, and the pandemic has been a long vacation for the kids despite their online classes by Ahmedabad Top 10 Schools. So, what you need is understanding and patience, which will help bring back their focus and interest in studies.
If you have managed to stay in during the pandemic by maintaining a certain degree of discipline and structure, it will not be a tedious task to help your child focus on studies. Returning to physical school can be both exciting and scary for the child after getting used to taking it easy at home for a long time.
Here are a few tricks and methods to make the return to school with their focus back to studies easier.
Conversations: Conversations are important to stay connected with your child. Involve your child in discussions and conversations concerning their well-being and life. Remind them of the joys of returning to school, which is one of the best amongst Ahmedabad's top 10 schools, and studying with their friends sitting beside them. The comfort of interacting with their teachers and classmates face to face instead of having to connect via screens. Make these conversations fun and lively by refreshing their joyful moments at school, their academic progress and other activities & achievements in studies, extra curriculum or sports.
Setting Goals: Sit with your child to chart out achievable goals. The period for accomplishing these goals can be set as per the child's enthusiasm or lack of it. Goals help immensely in bringing back the focus. Ask your children what they want to accomplish by the end of their academic year and set timelines accordingly.
Partnering: Along with helping your child set goals, you will also need to match their stance, making this a team effort where each player is working towards fulfilling their responsibility and tasks. This will reassure your child greatly, making them feel that they are not alone. Studying and attending school regularly might seem like a burden now, and this partnership will ease the heaviness by making it fun. Set timelines where you both can share your progress towards your individual goals.
Gratification: You can promise or set rewards at various stages towards achieving the goal/s. The rewards can be both tangible and intangible. For example, a family trip to a place your child would love to visit or spending more quality time with the parents and indulging in your child's favourite games and activities.
Stay connected: A beneficial interest of the parents in their children's studies and everyday life makes the children feel seen and valued. Make sure to keep aside a special time every day for your child to catch up on each other's day. This connectivity will boost their confidence and level of security while making them feel loved and cherished, which will do wonders for their seriousness and focus on their studies.
Group studies and playdates: Connect with the parents of your child's closest friends and set up sessions of group studies followed by playdates every weekend. The parents can take turns chaperoning and supervising the kids' study time and playtime. You can request the school directory for their contact details from all of Ahmedabad's top 10 schools.
The most important point to remember is never to let your child feel alienated and alone. The transition from the online study from home to back-to-school routine can be difficult and seem daunting to the child. Therefore, you need to hold your child's hand to assure them that they are not alone and to boost their confidence and power. You can also refer to the online suggestions listed by the Ahmedabad school list for further guidance.